A Message From Rick Hansen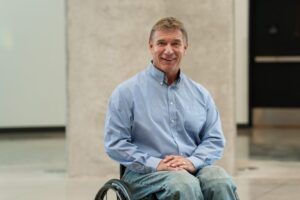 Welcome to Spinal Cord Injury Research Evidence (SCIRE) Professional. Whether you are a clinician, scientist, student, or a person living with a spinal cord injury (SCI), SCIRE Professional is an invaluable resource for current and credible information.
Since the end of my Man In Motion World Tour in 1987, the Rick Hansen Foundation has continued to raise awareness, create programs that support people with disabilities, remove barriers to accessibility, and fund SCI research and care. We've also forged amazing partnerships, creating opportunities to bring together like-minded individuals and groups to support the best in SCI research.
The passion we all have to discover and share new knowledge has united us in a common purpose and accelerated the time for research results to be translated into real-life benefits. It is through this sharing of knowledge and the adoption of best practices, through platforms like SCIRE Professional, that we can make a greater impact on the lives of people with SCI around the world.
The SCIRE Professional website has recently been re-developed to be easier to use with much improved navigation and more visual content to illustrate the work. It is available for free online and is accessible from around the world. To date, SCIRE Professional has had over 2 million users from over 180 countries.  The latest version of SCIRE Professional has more clinically relevant content such as instructional videos, toolkits, treatment algorithms, and clinical practice guidelines to help clinicians provide best-practice specialized rehabilitation care to patients. Content is continually updated and will include new topics and findings in the SCI field.
In addition to the new SCIRE Professional website, I wish to mention our companion site, SCIRE Community, an online resource for people living with SCI, and their family members, friends, or caregivers. In operation since 2017, SCIRE Community has developed a great deal of current SCI evidence and resources written in everyday language because we believe that the best scientific evidence should be accessible to everyone.
I applaud the SCIRE team for their ongoing contributions to the SCI field and want to extend my congratulations to the team on developing and launching this new enhanced website. We are looking forward to continuing our work together towards our common goal of maximizing the quality of life for all people with SCI.
Rick Hansen
Founder, Rick Hansen Foundation
April 2022